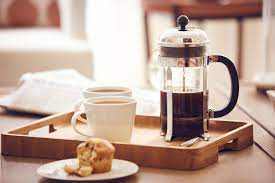 by Keila Montes De Oca, Barista and Video Pro
Since everyone's been stocking up on our beans to stay caffeinated for the long days of social distancing, we figured we'd teach you new ways to make coffee at home! 
Our barista and host Keila will be joined by John Cozz in this week's episode. He'll be showing you how to make a latte using an Italian classic: the moka pot! John's been an employee at Java Love for four years and our coffee roaster for two.  He also makes music that you can find on his Bandcamp (https://bit.ly/2zgtEw5), as well as Spotify. 
NO CONTACT WAS MADE AT ANY POINT FOR THIS VIDEO. In-House Coffee is remotely filmed and edited by our staff while we establish the new normal during the C19 crisis. 
To watch this video click here: https://www.youtube.com/watch?v=UwTzGGi6bv8
Stay safe, stay inside when you can, and wash your hands! 
You can order coffee and groceries for pickup or delivery on our website (https://javaloveroasters.com/) using the 'SHOP PICK UP' link. 
You can also donate to our virtual tip jar here: gf.me/u/xwdq4a